By:  Progress for WHB
On rather short notice, our village learned that Hillary Clinton the former:   First Lady of the United States; Senator from the State of New York; and Secretary of State would be visiting Westhampton Beach at Books & Books for a signing her latest book Hard Choices.  Mayor Moore was there to greet her and welcome her back to our village.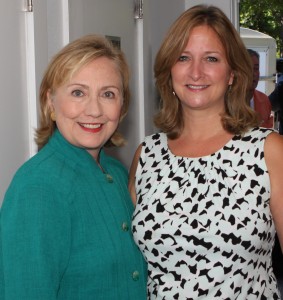 Although they had a reporter present at the event, an editorial decision was made at the Southampton Press to not report that our Mayor was there on Sunday representing the village.
The decision was also made to exclude the above photograph, as well as others that included the Mayor, from the  27east story while they posted 16 other photographs taken by Neil Salvaggio, a reporter for the Press.
Our residents should know that, contrary to the coverage by the Southampton Press, our village was represented by its Mayor, and that she did give the Former Secretary of State, Hillary Clinton, a proper welcome.
The Southampton Press and 27East has earned our first ever Dunce Cap Award
(if the Press can give out dunce caps, it can surely wear one.)
from Progress for WHB