By:  Progress for Westhampton Beach
Tonight, July 11th:
This season's second Monday Night Movie on the Great Lawn is Dirty Dancing a movie set in summer of 1963 in the Catskills.  The film stars Jennifer Grey, Patrick Swazey, Jerry Orbach, and Kelly Bishop and was originally released in 1987.  In 2004 the movie was adapted for the stage with the play being put on in London's West End, Ireland, and Toronto.
The movie soundtrack went platinum 11 times selling more than 32 million albums.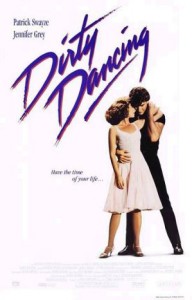 Run time is:  1 hr. 40 min. with a rating of PG-13
Sunset is at 8:23 movie begins then, with free popcorn as usual.
Stop by Brunetti's Pizzetteria and bring dinner with you.  After the movie head down Main Street for dessert from Shock Ice Cream.