Follow Progress For Westhampton Beach

By:  Progress for Westhampton Beach
The first performance of the Westhampton Beach High School fall play was tonight.   The students did a great job under the direction of Rosemary T. Cline.
This year the performance is Don't Drink the Water,  a Woody Allen play that is set in 1966 at a United States Embassy that is under siege.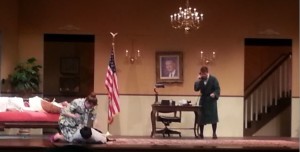 We have some fine comedic talent that is on display.  The next performance is Saturday night at 7:30 p.m. to be followed by a matinee performance on Sunday afternoon at 2:00 p.m.
It is a great opportunity to go out for a bite to eat and then take in the show.